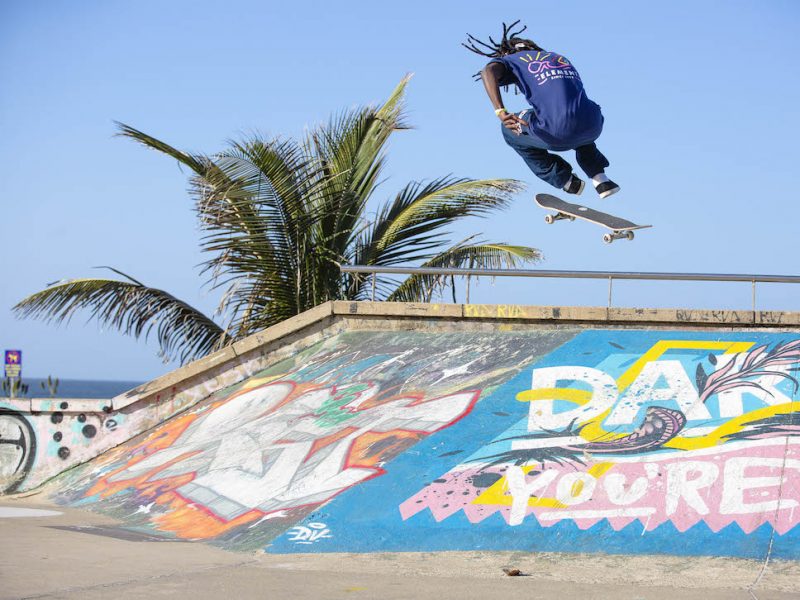 By Craig Jarvis
Khule Ngubane is a skateboarder from Durban, South Africa who is making it big time, heading towards the 2020 Olympic Games.
Originally from a poor neighborhood in the traditional kwaZulu Natal Zulu community, he has always followed a different path through the life-changing sport of skateboarding. Now he travels the world and inspires kids from his home country.
With skateboarding featuring in the 2020 Olympic Games it has enjoyed a resurgence of sorts that is set to increase as we get closer to the Games. Khule will be one of the South African skaters spearheading that resurgence.
He was recently the subject of a mini-documentary and extensive media profile in Barcelona, where he has inspired the Spanish skaters with his smooth style
The Westville resident has been a professional skateboarder from the age of 15 and now, aged 25, he's been a pro for a decade. He is sponsored by DC, Element and Monster Energy and has represented the brands well in his travels that have taken him from Los Angeles to Europe.
Khule's roots in the extreme sport have humble beginings, from being the only kid exposed to skateboarding in Chesterville where he was raised. He is now a very popular skater, and is well known for his relaxed approach, effortless style, and his big moves, always pushing it when he gets the opportunity. Khule spends his time between Durban, Cape Town and his frequent sojourns overseas.
You can check out a clip here.
Skateboarding in South Africa is very much alive, and now that skateboarding is part of the Olympic Games its actually an interesting time, said Khule while in Barcelona. "There is more investment coming in. They are already building new skateparks in bigger cities like Cape Town, Durban and Johannesburg. And Kimberley is a smaller town with one of the best skateparks right now. So, it's evolving and it's growing!"
Check out the Khule Transworld Skateboarding clip here.
Video by @marcosavino
Follow Khule: @khulengubane