Summary
The global death toll from coronavirus has passed 65,000. There are more than 1.2 million known cases of infection but more than 245,000 people have recovered, according to the Johns Hopkins University tally
In Australia, the death toll stands at 35 and there are 5687 confirmed infections. There are 2580 cases in NSW
The US Surgeon General has warned Americans to brace for "the hardest and the saddest week" of their lives, saying: "This is going to be our Pearl Harbour moment, our 9/11 moment"
The Ruby Princess remains off the coast of NSW as 250 crew await test results. Police have launched an investigation into the cruise ship fiasco
NSW Police have charged two people in Sydney with breaching social-distancing laws
Indonesians told to wear face masks in public
People in Indonesia are now required to wear face masks when they go outside, the government has announced, as the number of coronavirus cases rose to 2273.
"Starting today, everyone has to wear face masks when going outside," government spokesman Achmad Yurianto said on Sunday, noting that "even asymptomatic people could be a virus spreader".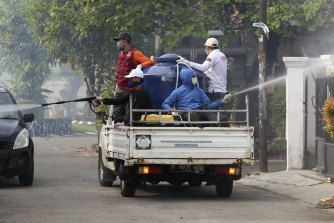 Citizens should wear washable cloth masks since surgical masks and N95 masks are for medical workers only, he said.
Indonesia reported 181 new cases of infection on Sunday, according to Yurianto, while 14 more patients have recovered, bringing the total to 164.
The death toll rose to 198.
Health authorities have tested 9712 people to detect and to trace the spread of the virus, he added.
AP
Italy reports slowest rise in death rate in more than two weeks
The death toll from the COVID-19 pandemic in Italy has risen by 525 to 15,887, the lowest daily death toll in more than two weeks.
The number of patients in intensive care also fell for the second day running, the Civil Protection Department said on Sunday.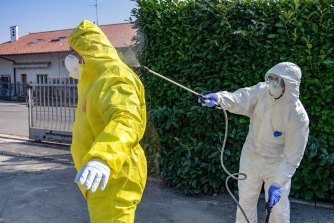 The total number of confirmed cases rose to 128,948 from 124,632 reported on Saturday, a lower increase than the day before, suggesting the pandemic had reached a plateau nearly a month after the government imposed a countrywide lockdown on March 9.
Of those originally infected nationwide, 21,815 were declared recovered on Sunday, compared with 20,996 a day earlier.
There were 3977 people in intensive care, a fall of 17 from 3994 on Friday, when officials reported the first drop in intensive care numbers since the outbreak in northern Italy on February 21.
Reuters
Libyan revolution premier dies from coronavirus
Mahmoud Jibril, who abandoned Muammar Gaddafi to become Libya's rebel prime minister during the 2011 revolution, has died after contracting the novel coronavirus, an aide and his party said.
Jibril was interim leader until the country held its first free elections in four decades in 2012, following the toppling of Gaddafi the year before.
He died in a private hospital in Cairo where he was being treated since contracting the virus late last month, said the aide, Fawzi Ammar.
Jibril, who was in his late 60s, had mainly lived in Egypt in recent years after losing power. A former technocrat in Gaddafi's regime, he was sidelined following the 2012 election and the passing of a law that banned former Gaddafi officials from public office.
Before Jibril's death, Libya's internationally recognised government in Tripoli had confirmed 18 coronavirus cases in the country and one death.
Reuters
New York reports first decline in daily coronavirus deaths
New York State reported 594 new coronavirus deaths on Sunday, fewer than the 630 it reported on Saturday, Governor Andrew Cuomo said.
As President Donald Trump and other leaders warned of rising death tolls, Cuomo said it was too early to say if the outbreak had reached a peak in New York – the centre of the nation's outbreak.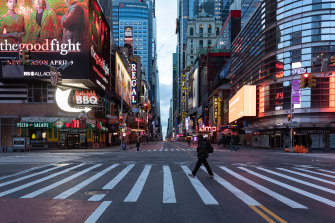 "You could argue that you are seeing a plateauing," Cuomo said. "Next week they will tell you whether we are on a plateau or is it just a blip," he said, referring to statisticians.
The state has had 4159 fatalities from COVID-19 so far, representing almost half of the US deaths since the crisis began.
Cuomo said 2500 hospital beds being set up at the Jacob K. Javits Convention Centre in New York City would provide a crucial safety valve for hospitals.
"The system is over capacity all across the board," he said. "That is putting a tremendous amount of stress on the healthcare system.
New hospitalisations dropped to 574 on Sunday from 1095 the previous day, Cuomo said. He said 74 per cent of those hospitalised had been discharged.
The state has a total of about 122,000 positive cases. New York City has 67,551 cases, up 4245 in a day.
Bloomberg
Spain's death toll rises – but the pace is slowing
The rate of new coronavirus infections and deaths in Spain slowed again on Sunday as the country, suffering from one of the world's worst outbreaks of the pandemic, began its fourth week under a near-total lockdown.
Deaths from the highly infectious COVID-19 respiratory disease rose to 12,418 on Saturday – the second highest worldwide after Italy. However, the toll of 674 people who died during the past 24 hours was down from Saturday's 809, and well below Thursday's daily record of 950, the Health Ministry said.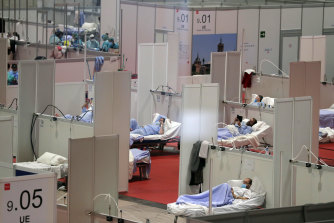 Sunday's rise represented a 6 per cent increase in total deaths, about half the rate reported a week ago.
The total number of registered infections rose to 130,759 from Saturday's 124,736.
"The data from this week and today confirms the slowing down of infections," Health Minister Salvador Illa said. "The data confirms that confinement is working."
He said one million testing kits were to arrive in Spain on Sunday and Monday and would act as "rapid screening" in places such as hospitals and nursing homes, part of an effort to pinpoint the true extent of the COVID-19 pandemic.
Defence Minister Margarita Robles said the data was "encouraging and hopeful".
Reuters
US Surgeon General warns of impending '9/11 moment'
US Surgeon General Jerome Adams has offered some of the starkest warnings yet as he braced Americans for the worsening fallout from the new coronavirus, warning "this is going to be the hardest and the saddest week of most Americans' lives, quite frankly".
The number of people infected in the US has exceeded 300,000, with the death toll climbing past 8400. More than 3500 of those deaths are in the state of New York.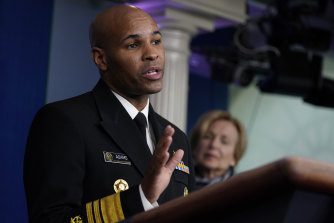 Much of the country is under orders to stay home, and federal officials said they had seen signs that people were listening to the message about social distancing. But the Trump administration is also emphasising that the worst is yet to come for many communities.
"This is going to be our Pearl Harbour moment, our 9/11 moment, only it's not going to be localised," Adams said on Fox News Sunday. "It's going to be happening all over the country. And I want America to understand that."
White House medical experts have forecast that between 100,000 to 240,000 Americans could be killed in the pandemic, even if sweeping orders to stay home were followed. President Donald Trump warned on Saturday that there were "very horrendous" days ahead.
Loading
For most people, the virus causes mild or moderate symptoms, such as fever and cough that clear up in two to three weeks. For some, especially older adults and people with existing health problems, it can cause more severe illness, including pneumonia, and death.
A few US states have declined to order residents to stay home. Adams was asked on NBC's Meet the Press if they should join the rest of the country.
"Ninety percent of Americans are doing their part, even in the states where they haven't had a shelter in place," Adams said. "But if you can't give us 30 days, governors, give us, give us a week, give us what you can, so that we don't overwhelm our healthcare systems over this next week."
AP
Scotland's Chief Medical Officer apologises for holiday home visit
Scotland's Chief Medical Officer has apologised after she broke travel restrictions imposed during the coronavirus pandemic by visiting her second home.
Dr Catherine Calderwood confirmed that she had visited her second home in Fife with her husband twice in the past week, in breach of her own advice to avoid travel.
"I did not follow the advice I'm giving to others, I'm truly sorry for that," she said.
Dr Calderwood said she had seen comments calling her a "hypocrite" and that what she had done was "irresponsible".
"What I did was wrong, I am very sorry – it will not happen again," she added.
Police Scotland said officers had spoken to Calderwood about her actions and had warned her about her future conduct.
Scotland's First Minister, Nicola Sturgeon, said Dr Calderwood would no longer be the public face of the country's campaign to tackle the coronavirus.
Pope holds Palm Sunday Mass without the public
Pope Francis celebrated Palm Sunday Mass without the public because of the coronavirus pandemic, which he said should focus people's attention on what was most important – using one's life to serve others.
Francis sounded subdued as he led the first of several solemn Holy Week ceremonies that will shut out rank-and-file faithful from attending, as Italy's rigid lockdown measures forbid public gatherings.
Normally, tens of thousands of Romans, tourists and pilgrims, clutching olive tree branches or palm fronds, would have flocked to an outdoor Mass led by the pontiff. Instead, Francis celebrated Mass inside St Peter's Basilica, which seemed even more cavernous than usual because it was so empty.
Besides his aides, a few invited prelates and nuns were present, sitting solo in the first pews and staggered far apart to reduce the risks of contagion. A male choir, also practising social distancing, sang hymns, accompanied by an organist.
AP
Britain threatens to ban all outdoor exercise
Britain will have to impose further restrictions on outdoor exercise if people flout lockdown rules designed to curb transmission of the coronavirus, Health Secretary Matt Hancock said.
"I don't want to have to take away exercise as a reason to leave home … if too many people are not following the rules," he told the BBC.
"At the moment the vast majority of people are. But people should not break the rules because that would mean that the virus spreads more and we then might have to take further action."
It came as the UK recorded another 621 deaths from the coronavirus on Saturday, bringing the total to 4934.
There were fears that warm spring weather on Sunday could encourage Britons to head to parks. London's Lambeth Council closed Brockwell Park on Sunday after it said many people had gathered in large groups there on Saturday.
Hancock said it was "unbelievable" to see a small minority flouting the government's advice to maintain social distancing.
If people did not follow the rules, which allow people to walk, run or cycle outdoors once a day but not sunbathe, he said he would have to ban exercise of all forms outside the home.
Reuters, Bloomberg
Singapore quarantines 20,000 workers after record rise in cases
Singapore reported 120 new coronavirus cases on Sunday, by far its highest daily rise, and quarantined nearly 20,000 migrant workers in their dormitories.
Of Sunday's new cases, 116 were locally transmitted and many were linked to two dormitories that house migrant workers, who will have to stay in their rooms now for 14 days.
The number of new cases is a 60 per cent increase over the 75 reported on Saturday, which was the previous biggest daily rise. Singapore has reported a total of 1309 infections and six deaths from the novel coronavirus.
Tens of thousands of blue-collar foreign workers live within close quarters in various dormitories in Singapore. They form a significant part of the labour force, working in sectors from construction to cleaning.
The spike in cases comes two days before the country will begin closing schools and most workplaces for a month as part of tighter restrictions to combat the COVID-19 outbreak.
Singapore was one of the worst-hit countries when the virus first spread from China in January, but a strict surveillance and quarantine regime helped stem the tide. Recent spikes in locally transmitted cases have, however, raised fresh concerns.
Reuters