By TOKELO MARTIN MOKHESI 
The month of May 2017 has been a sad one for international sports supporters as they witnessed four of the greatest sporting legends walk onto the pitch for the very last time for their respective teams in football and cricket.
All four ended their careers on a high, in great style:
Pakistini cricketers, Younis Khan and Misbah-ul Haq winning a thrilling test match against the West Indies at Windsor Park Dominica and clinching the series 2-1.
German football players Phillip Lahm and Xabi Alonso being crowned the 2016/17 Bungesliga Champions and lifting the trophy in a fitting farewell after their 4-1 win over SC Freiburg in front of a packed Allianz Arena.
These four great legends didn't only serve their countries and teams with pride and dignity but also their respective sports, and everybody who has been a fan. All four played their hearts out.
Younis Khan Bows Out of Cricket
Younis Khan has left the Pakistani cricket team with 1099 test runs at an average of 52.05 under his belt. He boasts a career-best score of 313 from 118 matches and 7,249 one day international (ODI) runs in 265 matches averaging 31.24, with a high score of 144. The 39-year old began his career in 2000 against Sri Lanka scoring a century. He is the first Pakistan batsman to join the 10.000 test runs
The 39-year old began his cricket career in 2000, playing against Sri Lanka and scoring a century. He is the first Pakistani batsman to join the 10,000 test runs elite club. He also has the most centuries by a Pakistani to his name, and he was managed to score a century against every test-playing nation.
It's being a roller-coaster ride for Khan, from leading the Pakistan team in 2009 to a T20 World Cup trophy to being accused of match fixing, and banned for life in 2010 by the Pakistan Cricket Board (PCB) that accused him of infighting. Replacing a player of his caliber will prove to be impossible. He goes down as one of the greatest batsmen ever.
Whenever things go hard for me or the team, I love to become the man who comes in and takes everything on his chest. Younis Khan
Misbah-ul Haq Says Cheers to Cricket
Known as Tuk-tuk for his defensive batting due to Pakistan's unstable batting order, and having to come in to bat early to consolidate, and Mr. Dependable for his calmness and scoring runs when needed the most in crucial times as captain, Misbah-ul Haq will be missed on the pitch.
Even though he made his test debut in 2001 against New Zealand at the time he was so inconsistent with the bat he had to wait for five years before becoming a regular team player. Between 2003 and 2007 he didn't play a single test match! His statistics overall are good, but as captain they are great. Overall, in 75 test matches, he averaged 46.62 and as captain, 4,153 runs at an average of 51.91. ODI: 162 games, 5,122 runs, average 43.40, and T20: 39 matches at an average of 37.52 and strike rate of 100+.
Almost every cricketer that has gone on to become a legend, started their journey in their teenage years. But Misbah was a late bloomer as he only begun to be recognized in his thirties, in about 2007 in the T20 World Cup where he was Pakistan's leading run scorer. He became a key figure in 2010 at the age of 36.
A cricket career is like your life, it can't be smooth. There are failures and success and you learn from it. Mishah-ul Haq
With captaincy came success. In his seven years as captain, he achieved the highest winning percentage (45) by any Pakistan captain, as well as the most wins by a Pakistan captain (26 from 56 matches). Under his captaincy, Pakistan achieved:
the number one spot in test cricket for the first time since 1998,
won a test series against Australia 2-0 in the UAE,
achieved a whitewash against England,
and Pakistan became the first team to win an ODI series in South Africa.
Despite being called Tuk-tuk Misbah holds the record for the fastest 50 in test history and he is the seventh Pakistani to reach 5,000 test runs. His absence is bound to hurt Pakistan.
Philip Lahm and Xabi Alonso Say Farewell to Football
They have won 39 trophies between them for club and country: two of the most remarkable and decorated football players of the past decade – the finest midfielder and right back of their generation, Phillip Lahm and Xabi Alonso. It was an emotional farewell for the duo at the Allianz Arena. The pair were honored before the game against SC Freiburg. Fans unveiling banners and praising the two club legends.
It was an emotional farewell for the duo at the Allianz Arena on May 20. The pair were honored before the game against SC Freiburg, with fans unveiling banners and praising the two club legends.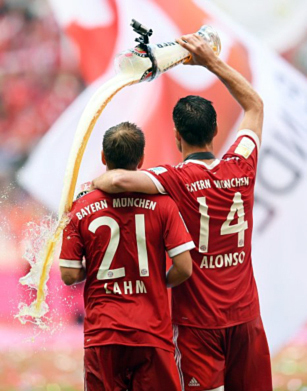 Lahm, who joined Bayern Munich as an 11-year old in 1995, made his debut in 2002. Now he will be inducted into Bayern Munich's hall of fame. He will also be remembered as one of the club's greatest players, with 517 games for Bayern, 113 caps for Germany, 22 major trophies including the Champion League and World Cup trophies.                                                                                                                                                                                                            Impressively, the 33-year old has retired without ever getting a red card as he made tackles without aggression. He was all about class. Because of his small size, precise nature and intelligence Lahm was nicknamed the Magic Dwarf.
But unfortunately, he goes down as the most underrated reliable world class defender!
As he was substituted at the weekend, Lahm fought back the tears. walking off to a standing ovation from everyone in the Allianz Arena.
Xabi Alonso, on the other hand, was at times has been criticized for sometimes making rash tackles, as well as his tendency to lose his composure and pick up unnecessary cards for hard fouls he committed.
The Spaniard was highly praised for his brilliant long-range passes, creativity, and hard work in the middle of the park. A "dead-ball" specialist, he didn't score many goals but when he did they were almost all screamers. He leaves with more than 700 club appearances, 127 champion league games, 114 Spanish caps, and 17 major trophies under his belt. He played a crucial role in Spain winning, the 2010 FIFA world cup and was part of the great Liverpool Football Club and Real Madrid squads that won the Champion League in 2004-05 and 2013-14.
In all the big three teams (Liverpool, Real Madrid, and Bayern Munich) he enjoyed his football with a lot of success, being instrumental in these team's successes. He was Spanish Player of the Year in 2003 at Real Sociedad, and La Liga's best midfielder in 2012.
All four legends, Misbah-ul Haq, Younis Kahn, Phillip Lahm, and Xabi Alonso have made their mark and served their clubs and nations well. Memorable careers to be celebrated and talked about in years to come. They will be missed.