Summary
Australia's death toll stands at 14 with 3657 Australians testing positive to COVID-19. In NSW there are 1617 cases, Victoria 685, Queensland 625, South Australia 287, Western Australia 278, ACT 71, Tasmania 59 and Northern Territory 15
As of 12.00am AEST, there are more than 614,000 known infections worldwide and more than 28,000 deaths from COVID-19 but more than 135,000 people have recovered, according to the Johns Hopkins University tally
Spain recorded its worst daily death toll, with 832 dead in a single day
5000 retail staff will lose their jobs after David Jones announces it will shut stores including Country Road, Witchery and Mimco. Myer stores shut from Sunday
Australians who break hotel quarantine rules face imprisonment and fines under new laws which have come into effect
China sends medical aid and medical professionals to Pakistan
By

Latika Bourke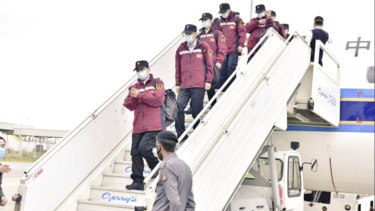 Eight Chinese medical experts have arrived in Pakistan where they will spend the next fortnight treating the country's COVID-19 patients.
Pakistan has recorded 12 deaths from coronavirus.
China has embarked on a major soft power push, sending medical masks, test kits, ventilators and protective kits to countries around the world, including Pakistan, the EU and Italy since claiming to have largely brought the virus under control at home, where the pandemic originated.
Foreign Minister Shah Mahmood Qureshi said in a statement that he personally greeted the Chinese medical experts at Islamabad airport "to express thanks to the government and people of China," "for their timely support in this difficult time."
Qureshi said in a statement that China's "assistance" to Pakistan included 12,000 test kits, 3 million masks, 10,000 protective suits and support to build a new hospital.
Pakistan has also accepted what the government said was a "considerable amount of donations" from private Chinese sources with the Alibaba Foundation and Jack Ma Foundation donating 50,000 test kits and 500,000 face masks.
"China also handed over two tons of masks, test kits, ventilators, medical protective clothes through Khunjerab," Qureshi said.
Khunjerab is the mountain border between Pakistan and China.
Earlier Qureshi phoned UK Foreign Secretary Dominic Raab and called for sanctions against Iran to be lifted, as well as debt relief for Pakistan, so that both countries could better fight COVID-19.
Fashion magazine features female NHS workers on its cover
By

Latika Bourke
This is fabulous!
UK Grazia is profiling women doctors, nurses and paramedics who are responding to the COVID-19 crisis.
Trump signs stimulus bill
By

Latika Bourke
Donald Trump has signed into law his US$2.2 trillion ($3.5 trillion) stimulus package.
The economic aid includes US$300 ($487 billion) billion in direct cash stimulus payments to Americans earning less than US$99,000 ($160,000) per year.
"I've never signed anything with a 't' on it," Trump said.
Trump signed the bill and promptly handed the pen to Senate Majority Leader Mitch McConnell behind him. Not sure that's appropriate social distancing…
UK COVID-19 deaths pas 1000 as first glimpse into pop-up hospital
By

Latika Bourke
The UK has reported 260 new deaths from coronavirus. It is Britain's highest single daily death toll for the third day in a row and takes total COVID-19 fatalities to 1019.
The country has more than 17,000 cases of infection from around 120,000 tests, according to the Department of Health and Social Care.
Among those infected are: Prime Minister Boris Johnson, Health Secretary Matt Hancock and Prince Charles.
The updated death toll came as officials provided the first glimpse into the temporary hospital being built by the military at the ExCel Centre in London's Docklands.
The NHS Nightingale hospital is one of three makeshift hospitals being built across the UK.
Number 10's photographer Andrew Parsons released these images of the initial 500 beds being constructed a short time ago.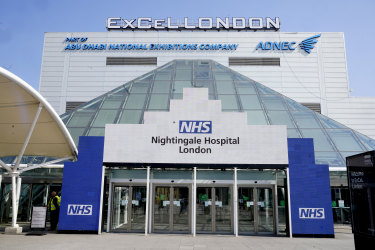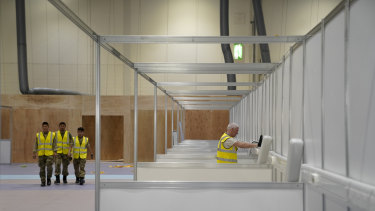 Spain records 832 deaths in one day
By

Latika Bourke
The latest news from Spain is grim.
The country has recorded 832 new deaths in a single day – its highest daily death toll.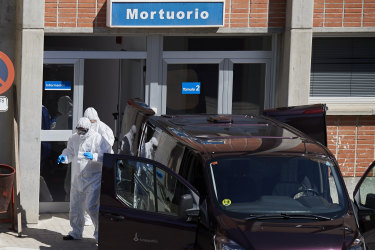 With nearly 6000 dead since the outbreak, funeral homes have run out of room and the Spanish military has been called in to help transport the bodies of those killed by the virus.
Spain has the second-highest death toll behind Italy and 72,000 cases of infection.
'Thank you from the bottom of my heart': Merkel thanks Germans
By

Latika Bourke
The number of coronavirus cases around the world has reached more than 614,000 according to the Johns Hopkins University tally.
More than 28,000 people have died but more than 135,000 have recovered.
The US leads the world in reported cases with 104,000 cases, followed by Italy, Spain, China and then Germany.
While democratic nations make up four of the top five, it's important to note that the figures reflect countries which are testing and revealing to the public the results of those tests.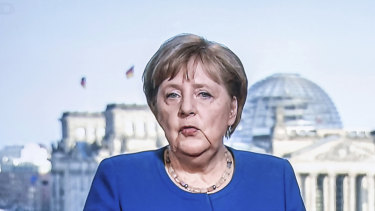 Angela Merkel, who is in quarantine, despite testing negative after being treated by a doctor who later contracted the virus, said she could not prevent new infections across Germany at this stage.
"We cannot completely prevent infections at this stage, but we can and must in the immediate future achieve fewer new infections per day, a slower spread," the Chancellor said in her weekly podcast.
"That will decide whether our health system can stand up to the virus."
She thanked the German people "from the bottom of my heart" for obeying the lockdown which will be in place until at least April 20.
The number of confirmed cases of coronavirus in Germany has risen to 48,582 – an increase of 6294 on the previous day – and 325 people have died of the disease, according to the Robert Koch Institute for infectious diseases.
But the news is not all bad. At the start of the outbreak, cases in Germany were doubling at a rate of every two days. Now cases are doubling at a rate of every five and a half days, closer to the target of ten days that is needed to ensure the health system can cope.
Germany's death rate is also well below that of Italy, France, Spain and the UK's.
RM Williams closes Australian stores
By

Megan Gorrey
Boot maker and clothing company RM Williams said its Australian stores would not reopen after end of trade on Saturday, joining a string of retailers to shut shops and shed jobs in response to the coronavirus pandemic.
"The COVID-19 crisis has stopped us mid-stride so to say, on a global level, affecting humanity at every level," the company said in a Facebook post on Saturday night.
"After great deliberation, knowing this will impact each of us and oura RM Williams family in different ways, we are closing our Australian Stores effective the 28th March."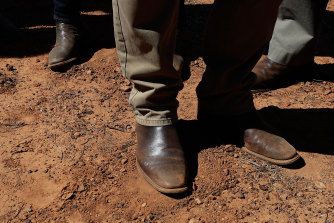 RM Williams stores in New Zealand, United Kingdom and the United States have already closed temporarily.
David Jones also announced on Saturday the closure of two of its small-format stores, at Barangaroo in Sydney and James Street in Brisbane, while its 45 other stores will continue to trade
About 5000 staff at 280 stores selling the Country Road, Trenery, Mimco, Politix and Witchery brands were told on Saturday that it would be their last day at work for at least one month.
Cotton On Group, which owns various brands under the Cotton On banner as well as Typo, Rubi and Supre, is shutting its 650 Australian stores at the end of Sunday's trade.
It follow closures at major retailers including Myer, which is standing down 10,000 workers from Sunday.
Coronavirus live coverage
By

Latika Bourke
Hello and welcome to our live coverage of the coronavirus pandemic for Sunday, March 29, 2020.
I'll be taking you through developments in Australia and overseas.
Here are the main developments from Saturday:
There are more than 615,000 known infections worldwide and more than 28,000 deaths from COVID-19 but more than 135,000 people have recovered.
An eighth person has died from COVID-19 in NSW, pushing the national death toll to 14. NSW had a record increase of 212 new cases of coronavirus in the 24 hours to 8pm on Friday.
Two of the country's biggest retail employers will stand down thousands of workers as they close a combined 900-plus stores this weekend in the wake of the coronavirus outbreak.
Randwick Council in Sydney's east closed beaches from Clovelly to Yarra Bay, after large crowds flocked to Maroubra on Saturday in defiance of social distancing rules. Bondi, Bronte and Tamarama remain shut.
Family members and friends of overseas passengers arriving at Sydney International Airport on Sunday morning have been urged to stay away, as their loved ones will be taken directly to hotels to quarantine
Recap: As the day unfolded: Boris Johnson diagnosed with COVID-19, Italy records nearly 1000 deaths in a single day