This bank holiday weekend should have been among the busiest of the year for Dublin Airport. If things had been normal, around 400,000 passengers would have passed through the terminals over the four days.
But these aren't normal times, thanks to Covid-19.
Instead, the place is like a ghost town, with grounded planes littering the tarmac and small groups of mostly mask-wearing anxious looking passengers coming and going on occasional rescue/repatriation and scheduled flights.
It is an extraordinary sight. And a deeply troubling one.
Because what we are witnessing now in the aviation industry is not only impacting the present, but will have a huge impact on the future of international travel.
Here are five reasons why:
Fewer airlines
When the health emergency phase eventually lifts and life begins to get back to "normal", it is a virtual certainty that there will be fewer airlines in the market.
Even before the Covid-19 crisis hit, there had been a string of high profile failures, like WOW Air, Thomas Cook and most recently Flybe, Air Italy and Atlas Global.
But industry experts say this is a catastrophe for aviation like never before – worse than 9/11. The CEO of Airbus described it in recent days as the gravest crisis the aerospace industry has ever known.
European carriers alone could lose €70bn in revenue this year, according to the industry organisation, the International Air Travel Association.
There will, therefore, be more casualties. Norwegian Air could run out of cash by mid-May, unless it gets its proposed rescue plan approved, it has said.
Others, including Lufthansa and Air France/KLM, have been lined up for multi billion euro bailouts from their respective home governments.
Many struggling companies will be saved or find a way to carry on, but not all.
So when fliers next feel confident enough to book a trip abroad, they shouldn't be surprised if there are fewer options.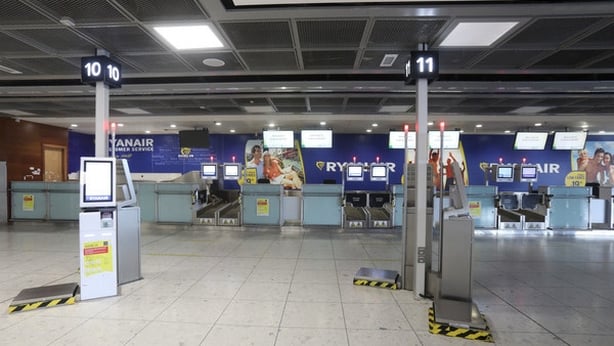 Thankfully for Irish passengers, Ryanair and Aer Lingus are both strongly placed to make it through. Ryanair and IAG, Aer Lingus' parent company, both have sizeable cash reserves on their balance sheets.
Enough – coupled with the cost structure re-engineering announced last week – for them to keep going for quite a while with lower passenger numbers.
And on the other side of the crisis, they will face less competition, allowing them to take advantage of the utterly changed aviation landscape.
Fewer routes
But with fewer airlines, there will inevitably be fewer routes.
The carriers that do survive will be smaller, with reduced staff numbers and possibly a lower number of aircraft on their books or on order.
Many will pare back the number of bases they have in airports around the world. They also won't have the same volume of spare cash to invest in expanding their networks for some time.
Fewer airlines, fewer bases, fewer staff, fewer aircraft, fewer cash and less demand all equates to a lower number of destinations.
So if you are the type who likes to flit frequently abroad for long weekends in small and unpronounceable Eastern European cities, then you are likely to have fewer destination choices in the future.
More expensive to fly
There won't be as many seats on the routes that do survive, either. According to an analysis by the Official Aviation Guide, airlines have cut seat capacity by 70% since the start of this year.
Even as restrictions are lifted and airlines find a new way to operate, that capacity will only come back slowly.
Yes, as Ryanair and others have flagged already, those airlines still flying will heavily discount fares initially in order to get bums on seats, fill aircraft and try to re-establish the habit.
But when the marketing sprees wear off, the substantial new debt that many carriers, leasing companies and airports will be carrying will have to be paid for.
If some airlines choose to remove the use of middle seats for social distancing, as Easyjet for example is proposing, that will reduce the load factor well below the golden 75% required to make airlines profitable.
Remaining passengers will likely therefore have to pay more to make up the difference.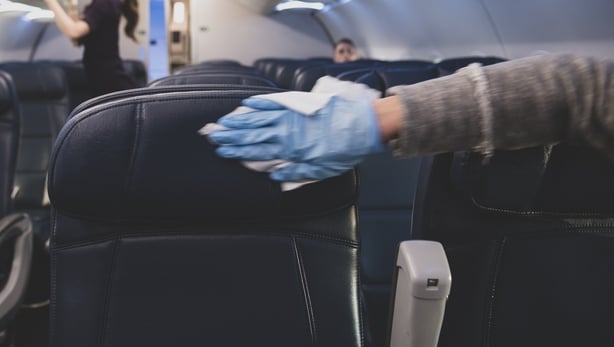 There will be extra running costs for airlines too, like for personal protective equipment, cleaning and hygiene, and slower turnaround times, impacting route frequency.
And there may also be new, extra charges for things that heretofore had been included in the ticket price, like hand luggage, or inclusive snacks, etc.
The one possibly saving grace could be that the cost of aviation fuel has hit the floor after oil prices tumbled in recent weeks.
That should help some carriers with their overall cost base, although many will have hedged their fuel for the next year at much higher prices.
Different travel experience
The big question facing many airlines though, is not only when will people want to travel again, but what measures to stop the spread of the virus will be acceptable to them during those journeys.
Some aviation and public health experts have talked about passengers having to wear masks on board.
Acceptable for a short haul trip from here to London or Spain, but how comfortable and indeed effective would that be for medium or long-haul trip?
Cabin and air crew will also likely have to wear masks as well as other PPE.
There will probably be temperature checks for people entering and traversing airports as well as social distancing measures in queues.
Will that mean longer waiting times at security and boarding, for example, requiring people to be at the airport earlier for their flights? How comfortable will the airport experience be?
The boss of Heathrow airport said it would be physically impossible to socially distance with any volume of passengers in an airport, so how will that work?
Will in-flight food, drink and shopping services have to be curtailed and on board magazines removed?
And when they get to where they are going, or return to Ireland, will passengers have to self-isolate for a period?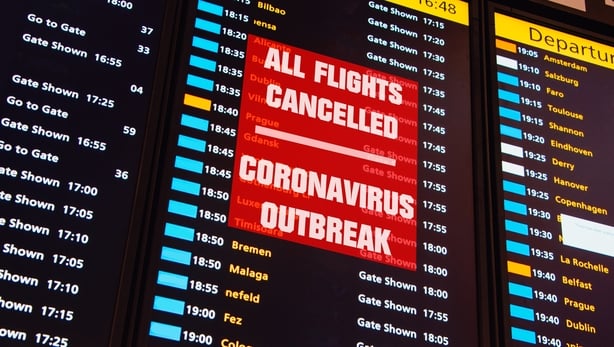 It could all make for a fairly difficult, and possibly miserable travel experience, not to mention worrying when the person sitting near you is coughing or sneezing through the flight.
Will people want to travel in such circumstances?
Less need for international travel
But aviation and travel aren't the only aspects of life that have been transformed by Covid-19.
The way we work has been catapulted into a new reality, with video conferencing and working from home thrust into the mainstream.
What was previously not acceptable business practice has, over a matter of weeks, become the norm.
So once the dust settles, many people who had spent much of their working lives on a plane will be left wondering, do they actually need to go to another country for a three hour long meeting?
The answer will increasingly be – no.
And when it comes to holidays and short breaks, will growing numbers of people rediscover the hidden joys of our native soil?
Far away hills may be greener and the lure of the sun is strong, but when hassle, risk and increased expense are part of the equation, we might just find people are more willing than ever to stay at home.