Summary
A man in his 80s has become the fourth person to die of coronavirus in Victoria
The number of confirmed coronavirus cases in Victoria has increased 84 overnight to 769. But long time business figures on the Mornington Peninsula say holidaymakers aren't heeding health warnings.
Overseas travellers who arrived in Melbourne on Sunday morning are being sent to hotels such as Crown Promenade, where they will spend two weeks in quarantine. 
Prime Minister Scott Morrison has announced $1.1 billion in funding for telehealth, mental support and domestic violence services, and food charities
The number of coronavirus cases has passed 663,000 worldwide. The death toll in Italy has passed 10,000 and in the United Kingdom it has passed 1000. 
Insights from English teacher in quarantine
By

Ashleigh McMillan
English teacher and podcaster Freddi Saleeba returned to Melbourne after more than a year living in South America, and will spend his next two weeks within a single room in the Crown Promenade.
He was set to stay in Melbourne with his sister for his mandatory 14-day isolation after returning from Santiago, but only two days before leaving, he found out he would be confined in a hotel.
Speaking to The Age from quarantine, Mr Saleeba said when they touched down on Sunday morning, Border Force entered the plane to ensure they all had masks on before they were temperature checked.
Only one plane could disembark into the terminal at a time, so passengers had to sit tight on the tarmac.
Travellers have been told someone will check on them in hotel isolation every 24 hours.
"It's a bit sad we've all had to do the quarantine in hotels just because people aren't actually listening to the government, they've just left their homes and not done the isolation. The government is spending so much money on this," Mr Saleeba said.
Appreciating the "amazing views" from his room, Mr Saleeba is still trying to find out when fresh groceries, essentials and some personal items will be delivered, after getting served "half a sandwich, a kiwi fruit and an apple" for lunch.
"The staff have been really helpful and friendly throughout the whole situation," he said.
"I've just got to figure out how to get good coffee in here – not instant. Hopefully, I can get a plunger in my care package – I'm in Melbourne after all!"
Ambassador says Aussie cruise ship passengers have flight home
This is great news from Australia's Ambassador to Italy Greg French with Australian passengers from the Costa Victoria and Costa Luminosa securing a flight home later today.
They were facing being left in Italy which is still battling terribly with COVID-19.
Sugar Garcia has her parents on one of the cruise ships.
Reminder: Don't follow fake advice on social media
By

Andrew Taylor
Important story from Andrew Taylor on some of the wild and dangerous fake remedies being advocated in some corners of social media:
Don't take health advice from Twitter. Or Facebook. Or US President Donald Trump.
Drinking bleach, snorting cocaine, smoking and consuming alcohol will not treat or prevent COVID-19, the disease caused by the coronavirus. Nor is there any evidence supporting the use of the anti-malarial drugs mentioned by Trump. Yet the list of quack remedies grows as the deadly disease sickens and kills thousands of people around the world.
As governments implement increasingly tough restrictions to slow the spread of the coronavirus, which has no known cure, snake-oil sellers are exploiting fears about the deadly virus to flog useless, and sometimes dangerous, products.
The World Health Organisation's myth busters site pours cold water on other purported methods to prevent infection, such as eating garlic, rinsing the nose with saline and spraying alcohol or chlorine all over your body. Health experts have also said that drinking water does not prevent coronavirus, following claims made in a social media post.
Ambulance Victoria releases social distancing video
This looks like a nice refresher on how to do social distancing and stop the spread of COVID-19:
'Grow up': Premier and Commissioner respond to 'disgusting' firearms industry threat
By

Lauren Pilat
The WA premier and police commissioner have responded in disgust to a threatening advertisement from the national shooting industry in WA's only Sunday newspaper.
The print advert from the Shooting Industry Foundation Australia addresses Mark McGowan with a threat, one line reading 'Premier, rein it in before we're all sorry'.
"Western Australia has done it again with punitive and counterproductive firearms business closures that put Australia at risk," another line read.
Mr McGowan at his Sunday press conference said it was "disgusting" and that he was not going to be threatened or intimidated by the actions of anyone.
"My responsibility is to the people of Western Australia," he said.
"Taking out an ad like that and issuing a veiled threat to not just me but my fellow West Australians is completely out of line. It won't be tolerated."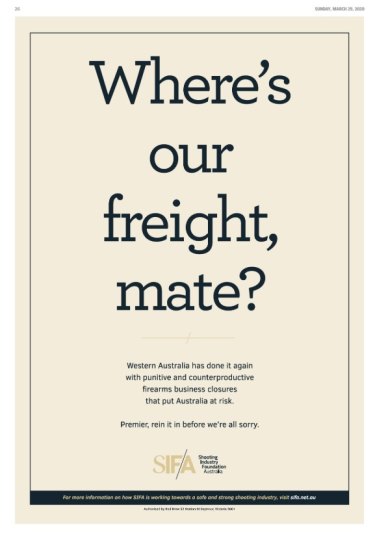 Mr McGowan said "this was not the United States" and urged the shooting industry, where a vast majority are doing the right thing, to "rein it in".
"Don't be stupid," he said.
"This is a state of emergency, have some understanding."
Police Commissioner Chris Dawson reiterated what the Premier said and urged the firing industry to understand that it was a state of emergency and to "grow up".
Western Australia has updated its figures.
The number of confirmed COVID-19 cases in Western Australian has risen to 312 overnight, with 33 new cases reported.
"Stay the f–k at home": Cannon-Brookes
By

John McDuling
Billionaire Atlassian co-founder Mike Cannon-Brookes has urged Australians to comply with social distancing measures put in place by the Morrison government as the nation confronts the coronavirus epidemic.
"Stay the f–k at home," he told The Sydney Morning Herald on Sunday.
"Be sensible. Educate yourself. This is incredibly serious. We must flatten the curve or many more people will die."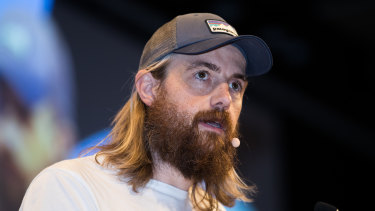 Atlassian worked with the Morrison government's Department of Transformation and Facebook to build a WhatsApp messaging service that aims to provide Australians with timely information about the spread of the coronavirus and act as a portal for further information on testing and government assistance.
Australia has 3,809 cases of the virus as of COVID-19 as of midday Sunday and has conducted 209,000 tests.
While these figures compare favourably to many other nations, authorities remain concerned about persistent non-compliance with social distancing measures ordered by the government.
Cannon-Brookes and fellow Atlassian chief executive Scott Farquhar were both directly involved in the effort to build the service, which came together in about one week.
Cannon-Brookes has been critical of government energy policy in the past but praised Canberra for working quickly and in a collaborative fashion.
"[The] experience was great," he said on Sunday via text. "Our team jumped straight in and worked a hell of a lot of hours. Almost 24×7. Govt has been super responsive. True collaboration."
On Saturday, Victoria's chief medical officer attacked "really crap" behaviour after crowds flocked to beaches in the state.
The NSW government was forced to close beaches in Sydney after large crowds flocked to them earlier in the month.
Both states are warning the police might need to be brought in to enforce harsher lockdown measures.
"Look at Italy. Look at New York. Look at Spain," Cannon-Brookes said.
"It's up to every one of us to make sure that doesn't happen in Australia. Stay home. Keep yourself safe. Keep your friends, family, grandparents, neighbours and everyone around you safe."
The government hopes the new service will get information in a timely fashion to more Australians.
"Hopefully we get through to new demographics, create a two way channel to provide information, symptom checking and real time numbers. In a short, punchy format.
"And with emojis," Cannon-Brookes said. "The kids love emojis "
WA beaches could be closed says premier – could Victoria do the same?
By

Lauren Pilat
Popular WA beaches will be shut by police from Sunday if people choose not to comply with social distancing restrictions.
WA Premier Mark McGowan said police would be focusing on popular beaches such as Cottesloe and Scarborough, with people not compliant to soon face on-the-spot fines of $1000.
The announcement came as a new law enforcement squad of 200 police officers hit the streets to ensure people were following compliance with self isolation and gathering obligations.
Mr McGowan said this was about maintaining safety during the state of emergency.
"The dedicated squad will increase the number of spot checks," he said. "This is about saving your lives."
The "urgent legislation" will be introduced in Parliament this week bringing in the $1000 on the spot fines for individuals and $5000 fines for businesses.
"If you've been directed to self isolate, then you must," Mr McGowan said. "So, there are no excuses."
Rye business owner slams selfish holidaymakers
By

Rachel Wells
A long-time Mornington Peninsula business owner has slammed the "selfish" behaviour of thousands of holidaymakers who have flocked to the popular holiday spot and are behaving "as if nothing is happening," despite advice to stay home to control the spread of COVID-19.
On Sunday, the Rye business owner, who did not want to be named, said he had "never seen the place so busy."
"It's never been this full ever. It's busier than our peak summer period," he said.
"You drive past the holiday houses and there's four or five or six cars parked out the front."
While he says the influx of tourists has been good for his small business, he says it could be disastrous for the area.
A total of 41 cases of coronavirus have been confirmed in the Mornington Peninsula local government area, meaning it has the second-highest total of any Victorian area.
"I would say today, 80 per cent of our business has been from tourists. If you've got this number of visitors here at the moment, can you imagine what it will be like at Easter if things aren't shut down. This thing could wipe out the whole Peninsula."
The business owner said it wasn't just young people who were flouting the warnings to stay at home.
"We're seeing retirees in their 60-plus out and about in their Range Rovers and Porsches not giving a shit," he said.
"The majority of the locals down here are really pissed off. Not only are these tourists clearing out our supermarkets, locals can't even go for a walk around the block anymore because there are so many people around."
However, not everyone was wishing the tourists away.
One cafe owner in Blairgowrie told The Age, "we need the tourists down here."
"We rely on people coming down here for our business to stay viable," he said.
Victoria Police will continue to patrol tourism hot spots and enforce strict new social-distancing and quarantine regulations as people continue to flood into holiday destinations across the state.
Beyond Blue to setup COVID-19 mental health service
Beyond Blue will setup a new COVID-19 mental health support service which offers free information, counselling and referrals online and by phone for people struggling with the impacts of the pandemic.
Beyond Blue has received $10 million from the federal government to fund the service with the organisation already seeing a 30 per cent increase in calls in recent weeks.
The organisation is "rapidly" building their new service while continuing to take calls from people on their 24/7 line 1300 22 4636 or via beyondblue.org.au/get-support for online chat (3PM – 12AM AEST or email responses within 24 hours).
Beyond Blue Chair and former prime minister Julia Gillard AC welcomed the funding in a press release this afternoon.
"This pandemic is having profound impacts on the mental health and wellbeing of many Australians – we are seeing that with our current services," Ms Gillard said.
"People are looking for support to cope with the effects of widespread anxiety and uncertainty, self-isolation and loneliness, family stress, and business collapse, job loss and financial hardship caused by COVID-19.
"I commend the Prime Minister and federal Health Minister for committing to urgent, practical action at this very difficult time and we take the responsibility given to us very seriously."
If you or anyone you know needs support call Lifeline 131 114, or beyondblue 1300 224 636.